Blast Ball - Age 4/5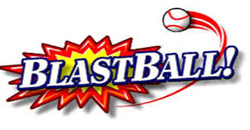 2022 Nights of Play: Tuesday / Thursday
Time: 5:30pm to 6:45pm
Where: Kinsmen Quad Ball Park #1
BlastBall is CMBA's beginner division for boys and girls 4/5 years old. It introduces them to the game of baseball and softball, while having fun in a safe environment.
What is BlastBall
BlastBall!® is a 1 hour practice with "teams" of 6 to 8 players. The teams will rotate through stations that will guide the little athletes through skill instruction on; throwing, hitting, catching, receiving, fielding. The stations are fun and interactive and with the small team sizes, the athletes get a lot of repetition that allows them to develop their skills.
After the teams have rotated through the stations, it is time for a fun game of BlastBall!®! With honking bases, soft bats, and nerf balls the athletes are comfortable and thoroughly enjoy playing a game of BlastBall!®
The players play 2 or 3 "innings" with each athlete hitting off of a tee each inning. When the player hits the ball to the defensive (fielding) team, the hitter runs to the base. When the fielding team cleanly fields the ball they yell "BlastBall!®" while the hitter/runner tries to get to the base and make it "honk" before the defensive team yells "BlastBall!®". Points are earned for defence and offence. If the defensive teams yells "BlastBall!®" first, they get a point. If the runner honks the base first, the offensive team gets a point. Once all hitters have had their turn, the teams switch sides.
BlastBall!® is meant to put FUN back in to the game of Baseball. It is designed to generate fast-paced action, provide recreation and exercise, create enthusiasm and thru simplicity, allow retention of youth participants in the game.